Bulletin 12 November 2018
Rotary Club Bali Ubud Sunset
District 3420 / No. 79571
Meetings: 2nd Monday of each month at Kakiang Garden Café on Jl. Andong & last Monday at Maya Resort & Spa Ubud. 5:30-7PM
"Do small things with GREAT LOVE" – Mother Theresa
Bulletin November 12, 2018
ANNOUNCEMENTS, CORRESPONDENCE, REPORTS
Guest : Anthony Heaton (husband of Renee Heaton), and Craig Chin
Pres. Brian welcomed all members and guests. He also gave us a Treasurer's report: Rp. 3,000,000 spent on bamboo curtains at Rumah Belajar Sadewa in Bangli, so they can teach during the rains.
Fundrising Xmas Dinner update from Admin Chair Bruce Briscoe
– Already printed the posters and every members should get involve to put those posters into public spaces, Restaurant and Cafes, Delta, Bintang, Pepito etc. Every member stepped up and the posters will go up this week.
– Added the poster to Bali Advertiser.
– 13 companies contributed to this event: Maya Resort & Spa, Amandari, Four Season, Taksu Galery, David Metcalf Photography, Locavore, Casaluna (Indus), etc.
– We will be welcoming all our dinner guests in our business room meeting at Maya before the dinner seating on 9 Dec., with appetizer/snacks, a welcome drink, a cash bar for drinks and we will present a slide show of our projects to see our projects.
– Prepare for the business cards, brochures, and brochures from other organization we worked together with.
– Next meeting at Maya (26 Nov.) is the perfect time to sign up for the Xmas Dinner for members and guests and pay so we can have a good idea of who is coming and supporting this wonderful event.
– Member Chair Sue and Fundraising Chair Renne will be in charge of doing the raffle tickets and prizes.
–
All our marketing for the event is now complete. We will have additional information coming out in the next Bali Advertiser. Plus we are registered in four different 'event' type websites in the Ubud area and they will show information within a week of the event.
– Now we will prepare the expanded information concerning the Silent Auctions to be given out at the event to encourage members & visitors to bid.
– At our next meeting Bruce will have a list of tasks at the event itself and will ask for volunteers
Other business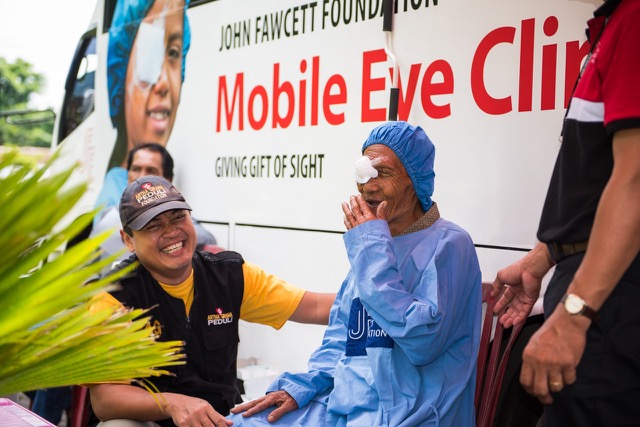 Five people from Payangan (the patients from JFF event on July) who need cataract surgery for the other eye will be contacted by Sec. Tika, they can do the surgery at JFF office in Sanur. Kadek Cinta the 12 year old girl who was founded to need cataracts will have her surgery at Puri Raharja Hospital on December 7th 2018. For information JFF even on November 29th 2018 at Desa Lean Bunutin Abang Karangasem, and December 30th at Desa Tembok Singaraja. The people from Healthy Day at Kedampal who need cataract surgery also will be organized to go on November 29th.
Kedampal water project plan to visit on Saturday November 17th. Treas. Allan, Brian, Tika, Youth Chair Kaler and Comm. Services Chair Dora plan to go.
Allan: news from Australia, he has visited 3 clubs to try to get funding for Gitgit water project but no lucky yet, so will try on his next visit.
Taro Composting program: the man called Wayan Wardika started his composting project in his village in Taro Kaja Tegalalang, he educated the villagers to separate the organic and non-organic waste, now he hopes RCBUS can contribute to give him the various repositories to collect the organic waste from every house in the village. We need to know more information about this before we decide.
Next meeting Maya on 26th November 2018
Meeting closed at 7pm.
By: Bruce Briscoe
by