Bulletin 26 February 2018
Rotary Club Bali Ubud Sunset
 District 3420 / No. 79571
 Meetings: 2nd Monday of each month at Kakiang Garden Café on Jl. Andong; last Monday at Maya Resort & Spa Ubud. 5:30-7PM
"What you do today is important, because you are sacrificing a day of your life for it"  Anon
 Bulletin 26 February, 2018
 ANNOUNCEMENTS, CORRESPONDENCE, REPORTS
Time 5:30 pm – 7.00pm
Location – Maya Hotel, Ubud.
Guests: Debbie Goeyardi, Patricia Goeyardi, Penny (apologies did not get surname, past member), AnnaMarie(honorary member).
Welcome and introduction by P Allan. Guests welcomed.
Club Business:
Previous Business- Allan informed that at last Board meeting, 10 year celebration was discussed; end of May /June, no date or venue decided. It will be a celebration/handover function not a fund raiser. Ubud Roteracts and other local Rotary dignitaries to be invited. PE Brian still to form committee to organise event.
Also discussed from Board meeting, Allan and Brian to confirm and prepare next year's board and club plans.
Treasurer's Report.
Rotary International Bill paid.
Finances. –
Projects – 134 million IDR; Library books 5,143 Million IDR; Shelving 1,000 million IDR; Relief fund 5.5 million IDR.
New Business
Chris "Helmet Man" – helmets should be delivered this week for distribution.
Community Service –Dora
New library project proposed for "Lilawista Sastra Library" – in Pac Ping's home. Explanation and proposal sent to all members.
Sponsorship of Rumah Sehat Healthy Day – April/May, no date set as yet.
RTN Tika was telling us about a car free day in Gianyar; where every Sunday the children and teenagers are given awareness training on such things
as sex education, HIV, Aids, etc.  Her proposal to maybe have RCBUS sponsors some Health checks? For example eye tests, using JFF but that require sponsorship due to their costs; maybe with Seminyak RC?
Fund Raising- Approach other clubs to jointly fund with us, overseas clubs, as nearly all RC looking for funds must get proposals in early , send proposals and show what we do.  Allan commented that many relationships have been lost. More information to go in Bulletin as this goes out to many people, over 800?
Other Business
PE Brian for next year; P Allan going to Australia for indefinite period; as of 12th March Rotary meeting Brian will continue as treasurer and also as President.
Guest Speaker
Our guest speaker – Debby Lukito Goeyardi- 
Children's book author since 2004; she has published 12 books; one of her picture books for children won the 2016 Samsung Kids Time Author's award in Singapore and displayed at the Bologna Fair in 2017. She focuses her time serving the Community through Literacy and social activities by empowering her roles as chairperson of KPBA Bali – the Society for the Advancement of Children's Literature- Bali branch and founder of Kanaditya Community. She also   writes a zodiac column for Balinese Magazine, as well as finding time for her family!!
In 2012 along with Dewa Gede Agung Dharmayasa( unfortunately not able to attend this evening they founded Kommune Kanaditya – meaning – Motivate; Inspire and Empower.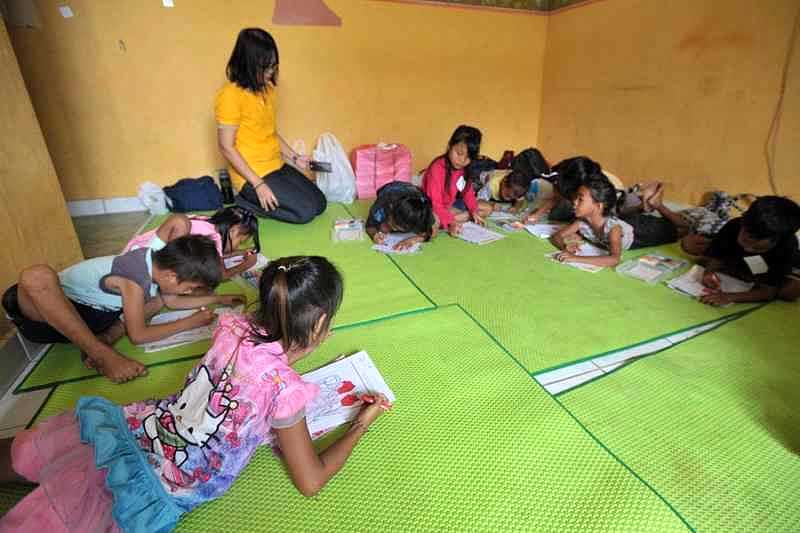 The Komunitas is at Pasar Badung, where every Saturday and Sunday morning they work with the "carry –children" of the market. These children as young as 5, are made to work carrying for people from 4am -10am and from 2 pm -10 pm every day, to provide money for their family. Out of 60 children only 8 go to formal school.
They teach the children English/reading/ writing/, craft/ cooking skills, singing. They also try to provide various health checks for the children monthly. Focus is also on awareness of sexual education and to be aware of not letting people inappropriately touch them or take them away; these subjects are not discussed in the family home so the children are ignorant and hence you get girls young as 12 having miscarriages or even babies….    They also take the children on outings when possible. The also work with the disabled children in the special, school in Jimbaran, teaching then various skills, in cooking, craft and gardening. They visit the very sick children in Sanglah hospital suffering from cancer, visit the abandoned baby ward.
They are always looking for experienced volunteers, to help especially in the disabled area.
They created a completion last for the children as all children love to win things and they can compete with each other.
They work with the Ministry of Women's Empowerment and child protection and other likeminded organisations!
Her daughter Patricia who also attended wrote the first book at age 12 she is now 17 and is an Interact and has set up environmental projects! Unfortunately no time to hear form Patrcia.
Allan  thanked Debby for her presentation.
Meeting closed at 7.05pm!
Next meeting 09th April 2018 at Kakiang Garden Café Ubud.
by